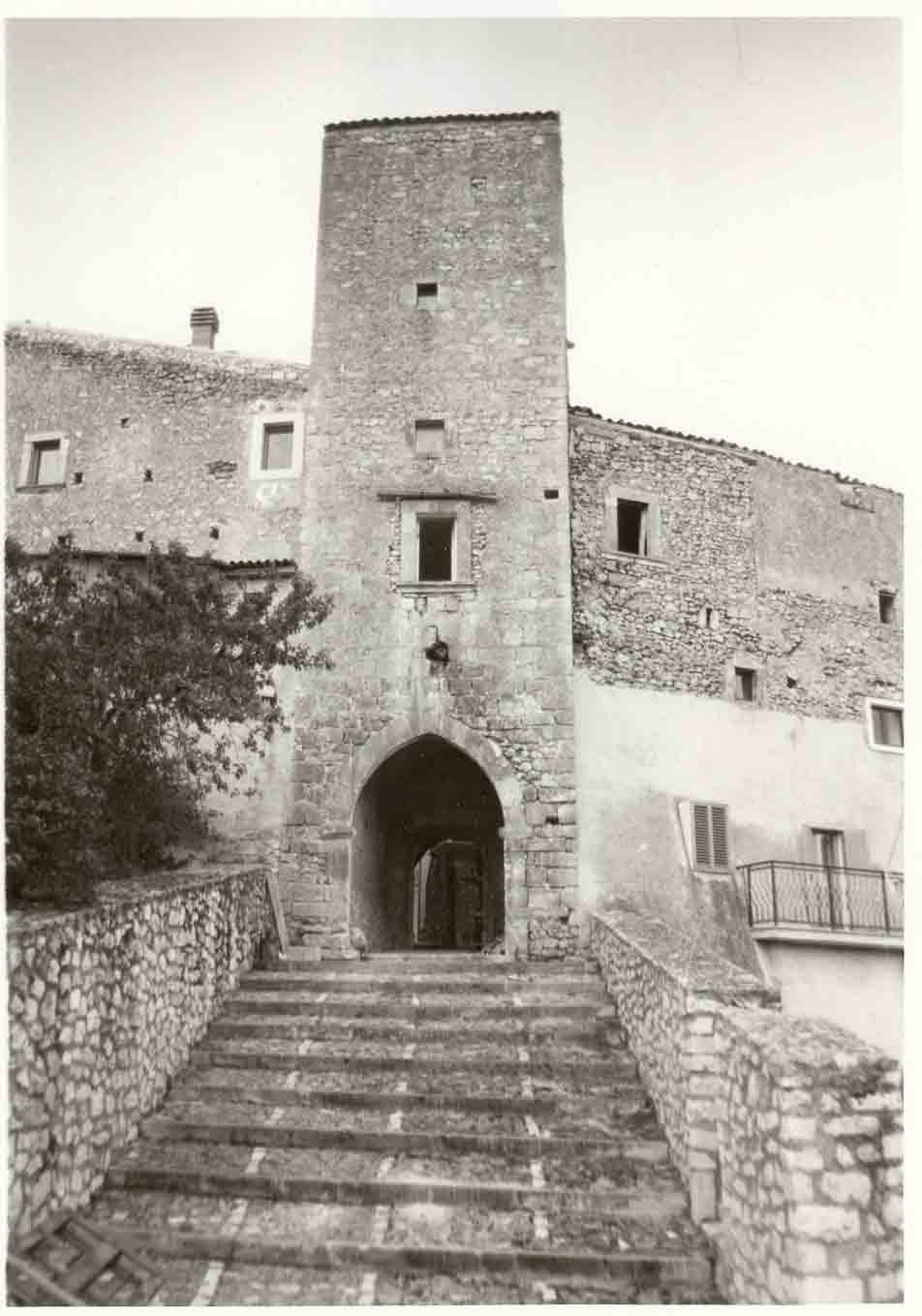 Collepietro -Torre
Caro signor Pier Angelo,
Mia moglie ed io ricordiamo con piacere la recente vacanza presso il suo agriturismo caratterizzata da grande ospitalitÓ e cordialitÓ.
Abbiamo trascritto, in una forma un po' particolare, ci˛ che ci Ŕ rimasto di Collepietro ed alcune sensazioni che abbiamo provato; desideriamo condividerle con lei cosi troverÓ allegato un breve scritto.
Cogliamo l'occasione per un saluto ed un ringraziamento a lei, a sua mamma e a suo papÓ.
Giuseppina e Gianni Piero Dellacasa
15 Maggio 2003

A Couple of Weeks in Abruzzi
By Mario Chiudioni
Few scenes will provide a series of emotions such as a panoramic view offered from the pensione located high on a mountain in Abruzzo, Italy. The whole valley opens up and lends itself to stimulating the sense of pride an Italian American whose grandparents originated from this rugged country would have. Familiar patterns of farmlands, given distinction by coloration of crops in various stages of growth, would offer the venue for reflection on the history that this land is famous for. Small, centuries-old cities added to the aura of continuity between antiquity and modern Italy. This was ours to savor for the next two weeks.
Bob Berardinelli and I arrived in Rome on Tuesday, July 27 and were met by the family of Gianfranco and JoAnn Gentile, along with their two sons, Claudio and Carlo. It was only with the generous cooperation of those lovely people that Bob and I were able to make this trip. They preceded us by one week in order to visit JoAnn's family in Savogna, located in Friuli. They then drove to the town of Capestrano where Gianfranco was born.
After picking us up at the airport in Rome, we drove to the final destination, the pensione of Agriturismo La Fonte, located just below the twelve hundred year old town of Collepietro. A young man, Pier Angelo Tomassetti, who maintained the rooms in spotless condition, served breakfast and supper and provided transportation to the piazza of Collepietro, operated the pensione. (As an aside, there is a small restaurant located at the end of the piazza called McGeorge. It consists of several tables located outside under a large canopy where one can enjoy a good meal in a most relaxed atmosphere and enjoy a lovely breeze, they claim, comes from the Adriatic over the mountains.) The meals at the pensione were cooked by Piero's mother and without doubt equal to any meal served anywhere in Italy. Other tourists used the pensione as a base and would then proceed to tour the Abruzzi region during the day. It seems the Italian government is trying to convert the entire Abruzzi area into one Grand National Park.
The highest peaks in the Apennines are located in this province with the Gran Sasso as its trademark. This area is without doubt one of Italy's most beautiful and geographically diverse regions, and yet this area has yet to be discovered by the majority of American visitors. The region is famous for its livestock production, farming and for its growing and production of the herb saffron. Although I did not have the opportunity to visit the Adriatic coast, the bounty of the skilled fishermen is well known. It was interesting to talk to the other tourists about tier impressions as they investigated the attractions of the various points of interest, along with the rich history of this region. We had the good fortune to meet native Italians from Milan, Perugia, Bologna and Rome who were visiting the area for the first time. Among the group were Giancarlo and Evanda Santaroni, who were most gracious during our encounter and being ever so subtle and kindly correcting my fractured Italian.
Our particular agenda, besides Capestrano, Collepietro and Rome, consisted of visits to L'Aquila, and Sulmona, along with the smaller cities of Bussi, Popoli and a myriad of small towns, each with its own uniqueness and all with the same comforting grace and charm. Candies in one town, beautiful rafted jewelry in another, innovative gifts particular to that region, all within one day's travel. In L'Aquila, we stopped to admire the beautiful statue located in the small square. A photograph of which was used by Dr. Santa Casciani for the cover of Mosaic magazine published by John Carroll University. We walked down the long street looking in store windows. We stopped a bar and ordered two aperitifs. What we got were two huge martinis, along with a small cup of nuts and chips.
Maggio a Collepietro

Maggio a Collepietro

Buchi di roccia

grandi occhi indiscreti

maschere fuori stagione

scrutano chi passa

alberi di mandorlo

gobbi e ritorti

come viti di ferro vecchio

senza tempo

case come tela di juta

su muri di pietre rosse

armonia di colori

di suoni

di odori

che nuovi ogni giorno

riempiono

appagano

quanta luce

quanto spazio intorno

la torre alta

le montagne scure

tutte dossi e rughe

la piana grande

di grano e orzo

e sull'uscio di una vecchia casa

una signora discreta

che ha vissuto a Roma

paga si guarda intorno

tira un respiro profondo

si illumina

si volta

mostra un vecchio aratro

appeso a ricordo.

Giuseppina e Gianni Piero Dellacasa

I signori Giuseppina e Gianni Piero

Sono stati ospiti dell'agriturismo nella prima decade di Maggio 2003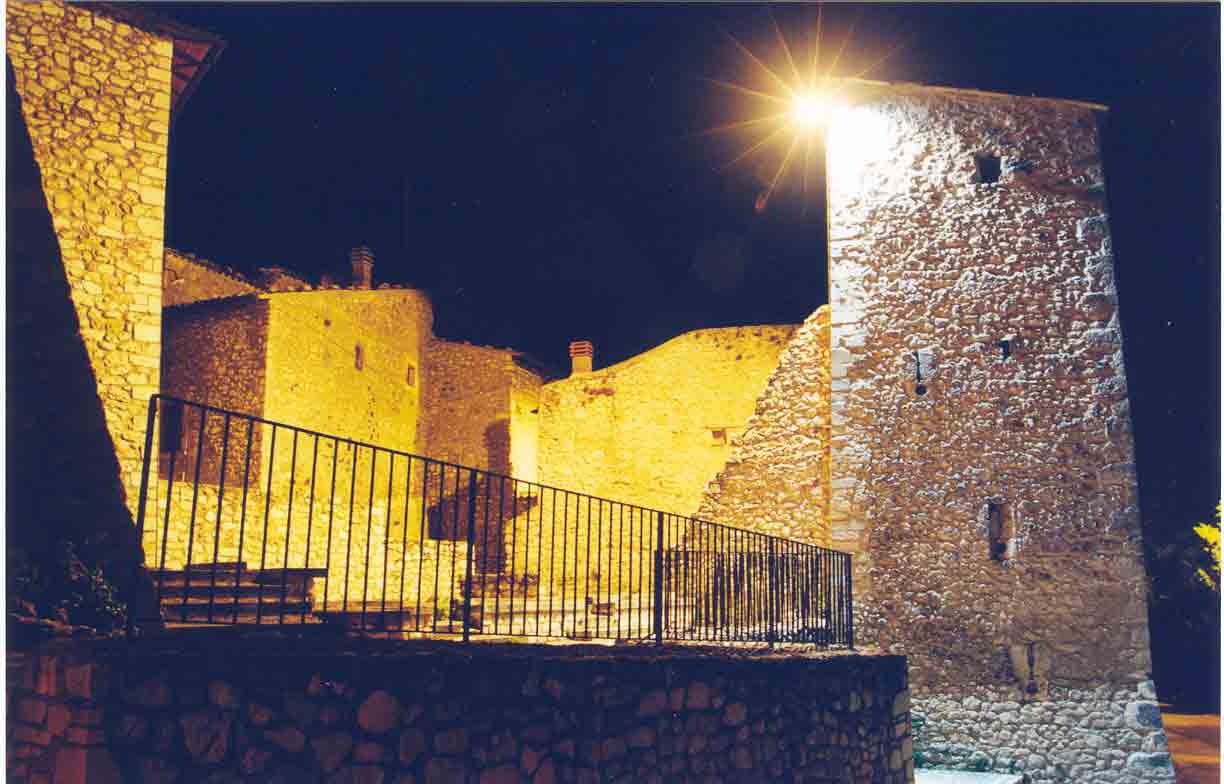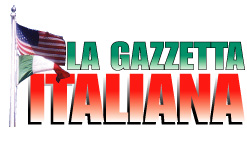 We visited the lovely city of Sulmona where, centuries before, Caesar met Pompei during one of their little disagreements. Since the Renaissance, Sulmona has been known for producing the nation's best confetti. These sugarcoated Jordan almonds are transformed, with the use of silk, plastic, colored paper and other accessories, into flowers, blossoms, exotic fruits and many other beautiful arrangements. The appeal to tourists is to view shop after shop featuring imitations of nosegays, which in turn gave the street a festive look.
As with all things there came an end to our odyssey. We said our goodbyes to Collepietro and Capestrano and then headed for Rome to spend a few days sightseeing that fabulous city. The day after we checked into our hotel, the Gentile family took cameras in hand and set out to document the famous ruins of ancient Rome. Bob and I sat outside of an osteria drinking beer, water and coffee for the better part of two hours. We earned our letters in people-watching that day. Later that evening, and for the better part of the next day, thanks to Gianfranco, we were able to see many sights of Rome.
On Monday, the 8th of August, we were homeward bound. We landed in Cincinnati, went through customs and finally onward to Cleveland. Bob and I kept recalling our experiences of the past two weeks. The one constant feature that proved to be most memorable was the personal contacts with the ordinary people. They provided the essence that solidified our lasting impressions. Italy's riches are unparalleled with regards to the arts and the disciplines that form the basis of our civilizations. However, the greatest riches are encompassed in her people.
Whenever I have had the opportunity to speak to those students who have participated in the essay program sponsored by the Italian American Cultural Foundation, it is with a definite reaffirmation that to know the history of the Italian American, he or she will come to know and take pride in the Italian immigrants who helped build this incredible nation. There is no doubt I will revisit Italy.
I signori Mario Chiudioni e Bob Berardinelli
Sono stati ospiti dell'agriturismo nel Luglio e Agosto 2006
Testo tratto integralmente dal sito internet:
www.lagazzettaitaliana.com/abruzzi.asp


Weeks in Abruzzo
Ciao Pier Angelo,

We really enjoyed staying at Agriturismo La Fonte recently. And your mother
cooked two delicious dinners for us. We are telling all of our friends about
how nice Agriturismo La Fonte is and also Collepietro, a pretty village.
Attached is a photograph.
Yours sincerely,

Robert Koehne
Director
AUSTRALINDO
GPO Box 8
Uraidla
South Australia 5142
Australia
Il Sig. Robert Koehne Ŕ stato ospite a Giugno 2009
Mail ricevuta il giorno 30 Giugno 2009